OISE Projection Art Project
: Supervised Injection Facility Toronto
Safer is our argument for Safe Injection Sites in Toronto. We interviewed users, harm reduction workers, and took recommendations from the Toronto Ottawa Supervised Consumption Assessment Study (TOSCA).

It is the creation of Katie Mayerson, Kelci Archibald, Liam O'Leary, Mereredith Heyland, and Brett Richardson for Bonnie Burstow's course Creative Work With The Disenfranchised at Ontario Institute for Studies in Education, Toronto.
Exemptions from Controlled Drugs and Substances Act - Guidance Document BC
__________________________________________________
Is There a Connection Between Problematic Drug Use and Capitalism?
Dr. Gabor Mate and Researcher, Bruce Alexander Explain
Radio: Gabor Mate: Capitalism Makes us Crazy: Illness and Addiction MP3
Video: Gabor Mate, Understanding Addiction
The Roots of Addiction in Free Market Society
by Bruce K. Alexander
The City of Vancouver is promoting a major new initiative on drug addiction based on the "four pillars" of treatment, prevention, law enforcement, and harm reduction. This balanced and compassionate initiative warrants public support. Unfortunately, it does not warrant optimism. A century of intense effort has shown that no matter how well different approaches are coordinated, society cannot "prevent," "treat," or "harm reduce" its way out of addiction any more than it can "police" its way out of it. Although the four pillar initiative is a step forward, developing an effective policy towards
addiction requires a deeper and fuller analysis of both the extent of addiction and its causes. The four pillars encompass only a small corner of the addiction problem—illicit drugs—and are not
founded upon an analysis of the root causes.
The word "addiction" has come to be narrowly applied to excessive drug use in the 20th century, but historically it was applied to non-drug habits as well. There is ample evidence that severe
addictions to non-drug habits are every bit as dangerous and resistant to treatment as drug addiction, whether they be the compulsion for money, power, work, food, or material goods.
Addiction in the modern world can be best understood as a compulsive lifestyle that people adopt as a desperate substitute when they are dislocated from the myriad intimate ties between
people and groups—from the family to the spiritual community—that are essential for everyperson in every type of society. These ties are called "psychosocial integration" in this paper. This paper argues that dislocation is the necessary
precursor of addiction, and uses examples from Canadian and Scottish History to show that free markets inevitably produce widespread dislocation among the poor and the rich. As free
market globalization speeds up, so does the spread of dislocation and addiction. In order for "free markets" to be "free," the
exchange of labour, land, currency, and consumer goods must not be encumbered by elements of psychosocial integration such as clan loyalties, village responsibilities, guild or union rights, charity, family obligations, social roles, or religious values. Cultural traditions "distort" the free play of the laws of supply and demand, and thus must be suppressed. In free market economies, for example, people are expected to move to where jobs can be found, and to adjust their work lives and cultural tastes to the demands of
a global market. People who cannot achieve psychosocial integration develop "substitute" lifestyles. Substitute lifestyles entail excessive habits including—but not restricted to—drug use, and social relationships that are not sufficiently close, stable, or
culturally acceptable to afford more than minimal psychosocial integration. People who can find no better way of achieving psychosocial integration cling to their substitute lifestyles with a tenacity that is properly called addiction.
Drug User and Sex Worker Activists,
in Washington, D.C.
Interrupt the 2012 International HIV/AIDS Conference Yesterday (July 23)
Demand to Know Why the Conference is being held in a country which dosn't allow the most affected to participate
2012 HIV/AIDS Conference and Recent Discussion on Ending the Drug War
Talk of ending the drug war on the table in western states during the 2012 HIV/AIDS conference in Washington.
aids-doctors-join-international-chorus-targeting-the-war-on-drugs
canadian-aids-doctors-urge-obama-romney-to-end-war-on-drugs5494/?cmpid=rss1
http://www.soros.org/voices/sensible-drug-policies-will-evidence-finally-overtake-prejudice
Promising HIV prevention programmes out of B.C.
BC Launches Massive Programme to Wipe out AIDS
Saga of a Toronto police drug squad
Published on Friday June 29, 2012
Ron Bull/Toronto Star
Team 3 in 2008 after a judge stayed all charges against them.
From left, Ray Pollard, Steven Correia, Richard Benoit, Ned Maodus,
Joe Miched and John Schertzer.
This is the story of Central Field Command drug squad, Team 3, and the long, at times tumultuous, effort to investigate and prosecute officers and also stave off a full-blown public inquiry.
The saga has never been publicly told in its entirety.
It's about the thin blue line of police solidarity, about a task force led by an outsider but otherwise involving officers investigating their own — a squad entrusted to enforce laws that declare a futile, never-ceasing war on drugs.
The alleged victims were "perfect" — drug dealers who told similar tales of rip-offs and assaults but had little credibility because of their criminal activity.
There were three criminal investigations spanning five years beginning in 1999, dozens of investigators assigned, a million pages of material reviewed, more than 200 drug cases tossed, and major delays in getting the case to trial.
As for the defence lawyers who sounded alarms, there is a feeling that larger problems persist — including an unchanged police culture and a lack of judicial scrutiny of questionable police evidence.
There is also a belief that the response to the entire drug squad saga seemed a public relations exercise aimed at limiting the scope of the problem and avoiding a potentially very damaging public inquiry.

CHAPTER ONE: COMPLAINTS
John Michael Schertzer graduated from David and Mary Thomson Collegiate in Scarborough in June 1975. Two weeks later, at the age of 18, he was wearing the police cadet uniform of the Metropolitan Toronto Police Force.
The chief of the day was Harold Adamson. Police headquarters was on Jarvis St.
A year earlier, policewomen were first placed on regular patrol duties, on the Metro force alongside the men, and it was decided they would carry .38-calibre revolvers.
There was also a royal commission underway into use of excessive force by certain Toronto officers during arrests and interrogations.
One allegation being investigated involved the squeezing of a drug suspect's testicles and use of a torture device called a mechanic's claw that ended up in a nostril and also tore skin from a penis.
In his 1976 report, Justice Donald Morand concluded that there were "disturbing problems" concerning use of force, and among his recommendations was that drug squad officers in particular should receive specialized training and be "supervised closely by experienced personnel."
Another recommendation: that the chief make it abundantly clear to all ranks that excessive force and false evidence would not be tolerated and must be "uppermost" in mind when recruiting and promoting officers.
That Schertzer was just out of high school and just legally permitted to drink a beer — the age being 18 at the time — was not unusual for recruits back then. Most had their Grade 12 diplomas.
Schertzer worked his way up the ranks to first-class constable, spending time at some of the busiest police stations in the city. He also saw some action on the holdup squad. By 1990, he made sergeant, and a year later worked as a detective in the Criminal Investigation Bureau before moving on to the Major Crime Unit.
In August 1995 he transferred to 1 District Drugs, which was reconfigured a year later to become part of the drug squad at Central Field Command, one of three command areas in the city. It was a change in name only for Schertzer and his crew, which was known as Team 3.
As his years in service were adding up, so were the public complaints against him. There were so many that in 1997, Det. David Eagleson, an officer attached to the Public Complaints Investigations Bureau, noted a disturbing pattern involving allegations of "assaultive conduct."
He alerted his superiors that there were 16 complaints naming Schertzer between 1992 and April 1997. Those superiors, in turn, flagged the concern to a deputy chief, who then handed over the file to two senior officers, one of them Schertzer's immediate supervisor.
In a 2001 memo to investigators looking into the drug squad, Eagleson recalled that no other officer or squad had received so many complaints over that period.
Eagleson met with Schertzer's boss and the other senior officer, but the two didn't seem overly alarmed, Eagleson said in his memo. They spoke "about the exceptionally hard work'' this one drug squad crew, led by Det. Schertzer, was doing.
Eagleson continued that the officers suggested so many complaints had been received because Schertzer's team was "proactive in their work."
Finally, Eagleson noted that he wasn't aware of any further action being taken by the senior officers.
If the alarm bells weren't sounding then, one later complaint actually led to misconduct charges, which did get the attention of senior brass.
In October 1997, Schertzer's crew arrested two men who were subjected to what a complaint investigator described as warrantless searches.
An unnamed informant had apparently told police one of the men was involved in cocaine trafficking. Both were pulled over in separate vehicles and arrested.
Homes were searched and nothing was found. The men were strip-searched and detained. This was the fourth time one of the men had been arrested, and none had resulted in a conviction.
"The very essence of fundamental justice was denied," William Nelson, the Toronto police complaint investigator who looked into the matter, noted in his findings. A superior agreed with the findings. Schertzer, Ned Maodus, Joseph Miched and Steven Correia, along with two others, faced Police Act misconduct charges as a result.
The Starwrote about the case in May 1998. It was the first public mention of allegations concerning Schertzer and his team.
Toronto lawyer Moishe Reiter, who represented one of the men, says today that Nelson, the complaint investigator, wrote "quite a courageous piece as a matter of fact, considering where he was and the reaction that he got. And he discovered some interesting things which were embarrassing."
However, the Police Act charges were dismissed in October of that year on a time-limit technicality.
Aside from the unpleasantness of being investigated and charged with misconduct over complaints, the officers of Team 3 had another reason to be tense.
That same month, "my team became the target of death threats from the Rema Posse, a violent Toronto Jamaican street gang with links to Jamaican organized crime groups in New York City and Kingston, Jamaica," Schertzer swore in an affidavit sworn in 2007.
There were also rumours of other internal investigations.
The officers — and their families — were now watching their backs.
CHAPTER TWO:
THE COPS
More than any other kind of police work, working drugs or gangs and guns requires the hunters to become the hunted. To go undercover, one must learn how to think like the target in order to fit in.
Officers assigned to these specialized squads become tight. They can practically read each other's thoughts, says one former drug prosecutor
"They need to be that way because their work is difficult and their work is dangerous. But there needs to be freshness from time to time. People brought in from the outside. They can't be left in too long."
Consider the nature of the job: taking drugs and drug dealers off the streets results in constant contact with cash and drugs. Many a Hollywood movie has riffed on the inherent tension this creates. And there have been many real-life examples of rogue officers and squads.
The five officers from Team 3 who've just been tried — Schertzer, Correia, Maodus, Miched and Raymond Pollard — faced allegations that included various combinations of drug dealer rip-off, conspiracy to obstruct justice, perjury, extortion and assault. While their defence lawyers would describe them during the trial as "foot soldiers" in the war against drugs, prosecutors painted them as mercenaries who used the tools of the justice system for personal gain.
The five had begun their policing careers at a young age, working their way through the ranks. They had spent time in busy police stations, doing stints in plainclothes and specialized units. By the mid-90s, most had landed at 1 District Drugs at 12 Division, a police zone in the old City of York that includes Toronto's rust belt.
It's where Kodak and CCM once had manufacturing plants.
It is also where, in 1994, young Constable Todd Baylis was shot and killed by a black drug dealer. It shook the city and strained race relations.
In 1996, 1 District Drugs became part of the new Central Field Command drug squad. This meant a move from 12 Division to 53 Division, in mid-Toronto.
As the boss of Team 3, Schertzer — a man of simple tastes, his lawyer says — led by example. Pollard would testify that Schertzer was "the hardest working officer" he ever met. "He made you jump."
When it came time to take down a drug dealer, with guns drawn and doors to be knocked in, "I'm the boss. I call the shots," Schertzer would tell the court.
He liked to work weekends out of the belief crime did not stop on Friday afternoon. An average day for him would begin with court in the morning followed by a shift that would stretch from just after lunch to the early hours of the next day. "Fourteen hours a day, basically," he'd say.
He found some of the rules and directives coming out of senior command out of tune with the reality of the streets, the law and front-line police work. "You're not worried about signing a form, dotting an 'i,' when you're kicking in a door and there are guns at you," he'd tell court. "The chain of command is so far removed from the scene in the field."
When the rules didn't fit and "they're clearly wrong, we can't follow them," he would testify.
Schertzer may have started his policing career straight out of high school, but he made a point of improving his education. He earned a bachelor of arts from York University one credit at a time. It took 17 years.
When he would get the phone call ordering him to surrender himself for arrest and turn in his gun, badge and warrant card — it would come close to Christmas, while he was in a mall with his kids, getting Santa pictures done — he started shaking uncontrollably and broke into a sweat, according to a court document.
Joyce Schertzer, his third and current wife and a promising detective on the Toronto police homicide squad, would stand by him through the many years of scrutiny and accusation. When her schedule allowed, she would be in court by his side.
Of his team, "he drove those guys," says John Rosen, his lawyer. "There was no down time."
Maodus was the last of the accused to join Team 3, transferring in October 1997 from the major crime unit to the already-established Central Field Command drug squad.
In time, a special task force led by a Mountie would come to the belief that between 1995 and 1999 — a period that straddled the move to Central Field Command — Schertzer and certain members of his team embarked on a string of criminal activity.
Included in the alleged activity: excessive force, unlawful searches and seizures, and theft of cash and valuables.
In 1998, the unit fell under the command of then deputy chief Mike Boyd. As far as Boyd knew, Team 3 was highly respected. At the time, apparently, he had never heard otherwise.
As RCMP Chief. Supt. John Neily — the Mountie who would later lead a task force investigation — put it in a 2005 internal briefing to then Toronto police chief Julian Fantino, the officer directly overseeing Team 3 "by his own admission gave up" trying to manage the crew before Boyd started.
That officer, wrote Neily, "allowed Schertzer to run his team as he deemed fit."
No one was supervising Schertzer.
CHAPTER THREE:
"PERFECT VICTIMS"
Judges' rulings criticizing officer conduct. Transcripts of questionable, if not downright unbelievable, police testimony. Copies of complaint files.
By the late '90s, Toronto criminal lawyer Edward Sapiano had cabinets bulging with such files. They served as an unofficial repository for fellow defence lawyers to dip into whenever a case involved an officer they might want to cross-examine. But often they'd also call to say, "Oh, Edward, let me tell you about this case."
Beginning in 1997, Sapiano started to see patterns in drug squad cases. Clients were privately complaining that money and valuables had gone missing. It wasn't something that would be particularly helpful if raised in court. With no proof, it could harm a client's chances.
Sapiano instead raised it in the courthouse hallways with Crown attorneys who would later look back and see things differently.
"More and more, the names kept showing up, and what I saw here was an indisputable pattern," says Sapiano, conducting a non-existent orchestra with his hands in the kitchen of his downtown loft and law office.
One day, Sapiano had a "watershed" moment in a drug case involving "Client Zero."
The case file was open in front of him, and the unnamed client's version of events seriously differed from the police account.
"I'm saying to myself, 'My client is toast, because no judge is going to believe a drug dealer over a police officer, especially officers that have been put on such a high pedestal as drug squad officers in the city at the time.'"
He recalls pushing the file aside. If he was to help his client, he would have to go after the officers' credibility, and that would require help. "I have to start thinking outside the box," he recalls thinking.
"I got on the blower, talking to lawyers around town, collecting information about whether they and their clients would be prepared to come on board with me with an investigation."
In April 1999, Sapiano penned a letter to Toronto police in which a total of 10 lawyers were named. They complained of similar patterns involving Schertzer's crew.
It would mark the beginning of an Internal Affairs investigation that, while well-intentioned and well-executed, would eventually lead to nothing, due in part to a lack of co-operation and a "lack of resources to the investigators," Chief Bill Blair wrote in a March 2006 briefing to the police board.
That investigation closed in April 2000 without grounds for laying any charges.
"The biggest problem in the case was that the victims were perfect victims," says Sapiano. "The majority of them were criminals."
Sapiano had also urged investigators to consider a sting operation, but that would entail cost and witness-protection issues, and drug squad officers were also well aware that they were under the microscope. Word of the investigation had "spread like wildfire," according to an internal document written by one of the investigators.
Some officers under investigation had also already left Team 3, and in May 1999 Schertzer himself left, "in part due to stress of my job, but also because of a labour dispute," he swore in an affidavit.
Management had been refusing a promotion to the rank of staff sergeant, despite his having fulfilled the requirements. Schertzer — though not charged with anything yet — was internally viewed, at least by brass, as an outcast and a liability.
Still, he would get his promotion in August 1999.
By then, deputy chief Boyd had concerns about Schertzer, according a 2007 interview with Neily.
They stemmed from the number of public complaints and, in particular, the arrival at police headquarters of 20 to 50 people from the Somali community complaining about an incident involving Schertzer's team. "There was talk, at that time, about theft of jewelry, an assault with a broken leg," he told Neily. He said he does not believe a formal complaint was ever filed.
When Team 3 became the subject of suspected death threats from Posse members, he decided to disband it.
"I thought there was a chance that if the team that was under threat was operating outside the legal parameters, then they become seen on the street by the bad guys as operating outside the legal parameters and they become fair game as . . . another gang on the street."
CHAPTER FOUR:
FREE TO GO
The door to the prisoners' box opened. Like cats walking in snow for the first time, the accused took tentative steps at first, incredulous that this appeared to be real. They moved slowly to the courtroom doors, looking back as they went.
It all began on Mon., Nov. 29, 1999, in a second-floor courtroom at Old City Hall, where a preliminary hearing in a major heroin trafficking case began before Justice Ramez Khawly.
There were seven accused, arrested after an investigation dubbed Project Tutu which involved nearly three dozen cops and a sting operation that reportedly included a $70,000 undercover buy.
Several of the accused sat in the prisoners' box, the allegations against them deemed of such a serious nature that they'd been denied bail and had been guests in the Don Jail since their arrest in February.
Their lawyers included James Silver, a young man who'd been called to the bar a few years earlier.
Up front as well were federal Crown attorneys from the Department of Justice. They had carriage of the case, since the alleged crimes were federal in nature. There was a smattering of police in the room, as well as court guards.
Cases of this magnitude, involving multiple accused, are never easy to co-ordinate. This morning everything was set, and the hearing — to test the evidence against the accused — was to last several weeks.
But that afternoon, as an undercover Toronto police officer was on the stand, it became clear that something was seriously amiss.
Silver, now 40, remembers it like this: he'd heard the Crown might be seeking an adjournment, and it got him thinking about why they might do that at the very start of a preliminary hearing.
Sure enough, the federal Crown asked for one, gave no reason for the request, and was denied.
It wasn't likely that police were still investigating the accused. "It suddenly struck me that the only thing that makes sense is that they're investigating the police," recalls Silver.
When it was his turn to examine the undercover officer, he asked if the officer's unit had recently been investigated by Internal Affairs and whether officers had been questioned about how they handle drugs or money. The Crown objected to the line of questioning and Silver knew he'd hit a nerve.
The next morning, Crown attorney Robin Parker read from a prepared statement: the Crown was staying all charges in the case, as is its prerogative, with the option of reactivating the charges within one year.
No reason was given at the time — and none ever has been. Parker, now in private practice, can't talk specifics about it as she is professionally bound to silence unless questioned in an appropriate venue, such as an inquiry.
What is clear today is that the federal Department of Justice was assessing drug cases involving certain Toronto officers who were under investigation.
One problem: the Crown couldn't say what it knew, lest it tip off a target of the investigation.
More than 200 cases would eventually come completely off the rails.
This was just the start, and Silver's client and the others, the judge declared, were free to go. Confusion ensued. Some of the accused spoke little or no English and the news was temporarily lost in translation.
"They're just kind of standing there thinking, 'What, I'm allowed to go out? How does this work?' " recalls Silver. "It was beyond comprehension."
"Everybody ran," says Silver. "What would you do?"
With police and lawyers looking on, they streamed down the centre staircase on the south side of Old City Hall and straight out the front doors.
The Crown did entertain the idea of reactivating the charges nearly a year later, but defence counsel talked of filing an abuse application. That was the end of it.
Scenes like this would become common in Toronto, and it took only a couple of weeks for the media to pick up the pattern. Although allegations concerning the Central Field Command drug squad Team 3 had first been aired publicly in a Star article in 1998, the story exploded.
Perhaps the most significant case to unravel, albeit partially, involved the largest heroin bust in Toronto history. That investigation, dubbed Project Pizza because some of the alleged activity was taking place in pizza joints, resulted in a $50-million drug bust and 13 arrests in late 1999.
In August 2001, charges against five of the accused were stayed, again without official explanation.
The Crowns in the Department of Justice found themselves in a "terrible catch-22" situation, says a legal source with knowledge of the case who asked not to be named. They couldn't publicly explain themselves, creating the perception with some that they were "covering up" for drug squad cops with whom the department Crowns had worked closely.
They also wouldn't talk to investigators.
Later approaches for under-oath interviews by the RCMP-led task force were rebuffed by federal Crowns, leading RCMP Chief. Supt. John Neily to order a search warrant on their office. "I believe it safe to say that the stance that the (Department of Justice) has taken is both disappointing and unexplained," Neily wrote on a report to Fantino in 2005.
Neily today speaks of his feelings then — "I was frustrated. Not a little. I was very frustrated" — but he also sees that the Crowns had no choice. "I couldn't second-guess that because I'm not an attorney and I'm not legally trained, I guess."
Perhaps the most troubling statistic to come out of the investigations into the drug squad was the number of cases involving Team 3 that never made it to trial. At one point, an internal audit found that 82 per cent of Team 3 cases had ended in a stay or withdrawal of charges, significantly higher than other teams.
And this was before they were under investigation and saw charges being stayed for that reason.
In other words, fewer than one in five cases ended with a verdict, with little or no complaint from the police team, according to Neily.
In November 2000, a second internal investigation into the drug squad involving the use of confidential informants and the fund used to pay them — the so-called "Fink Fund" — resulted in criminal charges of theft, fraud and forgery being laid against eight Central Field Command drug squad officers, including Schertzer, Miched, Correia and Pollard.
Lawsuits were piling up in which alleged drug dealers accused the drug squad officers of theft and unnecessary force.
By then, Julian Fantino had taken over as chief from David Boothby and was facing what media regarded as the biggest corruption scandal to rock the service.
In addition to the charged drug squad team, five officers attached to the repeat offender enforcement unit were also facing criminal charges related to the Fink Fund.
Torontonians were asking: what was going on at the Toronto Police Service?
Fantino did not respond to requests for an interview for this story.
By 2001, a major concern was a full-blown public inquiry, like the one that coincided with the start of Schertzer's career in the '70s. Containment became one of the priorities, as was evident in an internal "business case" report prepared in early 2001 by Insp. Tony Corrie.
"It is feared that the inevitable public outcry" may lead to an inquiry, he wrote. It was possible that would mean questions for officers at all levels, including "Command and the former Chief of Police."
More to the point, Corrie bluntly wrote that a "preliminary review of the situation by the author indicates that members of this Service may well say things that could cause embarrassment to the Service and to other members."
Corrie noted that an internal case review team had only touched the "tip of the iceberg" and that there were indications of many more problems. He outlined a number of courses of action that might lessen the blow of an inquiry and possibly "avert" one altogether.
Among them, get help from an outside agency.
Fantino hired a retired judge to look at how police might flag officers whose ability to testify has been compromised because of internal investigations or charges. He also called in the Mounties.
CHAPTER FIVE:
INVESTIGATING POLICE
In a large room at police headquarters at 40 College St., chief Fantino, surrounded by senior officials in the service, told the 26 officers recruited to be members of the Special Task Force, along with four Mounties, that they were doing "God's work," and they should follow the truth wherever it took them.
RCMP Chief Supt. Neily, an outsider brought in to head the probe, told the assembly that day in the fall of 2001 that anyone who felt he or she was not up to the challenge was free to leave during coffee break. There would be no repercussions.
No one left. But at least one of the men chosen for the task force wishes he had. "I made a wrong choice, and that was believing the organization would do what it said it would," says Jim Cassells, 57, a youthful-looking retired sergeant. "I should have got on that elevator."
Cassells believes the task force, despite glowing promises, was not supported by Toronto police brass, and that several secretly wished it to fail. In fact, the task force was flawed from the first, he says.
Many investigators wanted nothing to do with it.
Though the task force managed to snag some skilled detectives, several were in hopeless conflicts of interest because they had worked with the officers under scrutiny, Cassells says.
Others, like him, lacked extensive investigative experience, he says. "This wasn't the A team. It was a cobbled-together group of people."
Neily, now an Ottawa consultant, won't hear his team denigrated. "I was very proud of them," the former Mountie says.
On one thing the two seem to agree: the 2 1/2-year probe took a severe toll on some investigators.
"A couple of folks came almost in tears and said they wanted out because of the stress it had on their marriages," says Mike Hamel, the former Toronto police acting inspector who was Neily's second-in-command. "I got them out."
Some developed stress-related health problems, including tooth damage from grinding.
The investigators encountered stubborn resistance from their peers. They hit the classic blue wall of police solidarity, the cop equivalent to the "no snitching" rule on the street.
"That's something I find incredibly ironic," Cassells says. "Police every day ask citizens to step forward and assist them in solving crime."
One young investigator on the task force was advised by a cop to stay away from his former police division's kids' Christmas party, at which he had previously volunteered.
Another, after transferring out of the task force, was given a desk with no locks in a photocopy room. "He was informed by his superior that people who had worked for the task force didn't get locks," Neily says.
On that first day at police headquarters, as Neily surveyed his new group, he faced a daunting task. Hundreds of cases had to be reviewed.
As a first step, he and Hamel moved operations to an obscure townhouse complex on Wilson Ave. near Keele St. to keep away from prying police eyes and operate independently.
As the investigation wore on, officers festooned a wall of the dingy, two-storey condo with a web of written materials and photos to identify the trail they needed to follow.
They faced challenges typical of drug squad corruption probes. Several of the witnesses were confidential informants whose identities had to be protected.
Nearly all the complainants were drug dealers, naturally suspicious of police, whose word alone could not be trusted. Their evidence had to be corroborated.
This involved a painstaking gathering and collating of documentary evidence, such as officers' notes, Crown files and arrest records. Some could not be found.
"Because you are dealing with police officers, you have to be extra careful when you're collecting the evidence," Hamel says. "You have to go that extra mile to confirm everything you uncover."
The material under review was massive, over a million pages.
While the initial focus was Schertzer's team, the task force eventually investigated another drug squad, Northwest Field Command, after arresting one of its members, Det.-Const. Robert Kelly, in November 2001 for cocaine trafficking. He pleaded guilty to simple possession.
The task force also conducted preliminary reviews of three searches conducted by Team 2 of Central Field Command, but results were inconclusive, according to Neily's report.
The task force interviewed hundreds of witnesses, executed dozens of search warrants, obtained three wiretaps, and commissioned a forensic accounting analysis of the officers' finances.
The Schertzer team alone had undertaken more than 200 search warrants and laid more than 1,000 criminal charges during the period under review.
The task force questioned several fringe players, offering most of them limited immunity, but the majority, in the presence of their lawyers, either lied or failed to answer questions, Neily wrote in his report to Fantino.
The Toronto police union, headed by the combative Craig Bromell, became increasingly impatient with the probe, which Bromell believed was dragging on.
"They were changing the rules as they went along," Bromell says. He alleges the task force regularly questioned officers without letting them call their lawyers.
Neily categorically denies this: "In almost all cases they were accompanied by their attorney."
Bromell recalls driving up to an RCMP building near Pearson airport to demand the release of a drug squad officer being held by the task force "for hours."
The union boss threatened to take every cop off the street if the officer was not released. The officer walked away.
Neily disagrees with some of Bromell's account. "No one was held hostage," he insists. The task force was following a protocol for interviewing witness officers approved by the Crown, police force and union, he says. "At the very last minute," it was Bromell who changed the rules, Neily argues.
Intense media interest, some of it negative, heightened the pressure.
"We would look at the press and we felt sometimes that we were the bad ones because we were bringing all this to the surface," Hamel says.
He and Neily would call meetings to build morale and reassure the team they were on the right track. For relaxation, Neily once played the movie Training Day, about a corrupt, murderous Los Angeles drug cop, played by Denzel Washington.
Defence lawyers have pointed to this as a sign of bias. But Neily says he was not equating the film with Toronto's drug squad.
John Rosen, Schertzer's lawyer, accuses the task force of having tunnel vision. "They assumed wrongdoing and then set out to prove it and didn't ask the hard questions."
But Neily maintains his crew did the exact opposite, reviewing well over 2,000 cases, discarding all but those meeting a high threshold of reasonable and probable grounds.
And then a remarkable turning point: the officers under investigation fired back at their investigators. Eight former Central Field Command drug squad officers, including Schertzer, Correia, Miched and Pollard, filed a lawsuit, naming just about every key player in the internal investigations and the special task force probe, as well as Crown attorneys, and several provincial ministers who had served as solicitors general over the years.
The officers sought $116 million in damages, alleging, among other things, that while they had been pursued in criminal investigations, other Toronto officers had not been.
They also complained that the police investigating them had not tried sting operations.
"They're off the reservation," one police union source told the Star at the time.
The team went with what it felt it could prove: on Jan. 7, 2004, Neily and Fantino held a major press conference to announce they had charged the five officers, plus Const. Richard Benoit, with 22 counts, including conspiracy to obstruct justice, perjury, extortion, assault and theft.
At this point the Crown took over, encountering its own difficulties.
As the officers headed to trial, there was an ongoing battle between prosecution and defence over disclosure, well over 300,000 pages.
Many of the documents were riddled with privileged confidential informant information that the Crown had to vet and redact. Some of it was later unredacted when it became apparent they had gone too far.
There were so many documents, delivered electronically to the defence, that Miched's lawyer, Peter Brauti, despaired of having enough office space to house them once they were printed in hard copy.
One printing house rejected the job, saying all the blocks of black ink needed for the many redacted pages would burn out their machines.
On May 31, 2006, after a five-month preliminary hearing, then-provincial court Justice James Blacklock committed the six officers to trial on 14 of the 22 counts.
In the following months, disclosure issues and friction between the Crown and defence created numerous delays in getting the matter to trial.
Pre-trial motions began in front of Superior Court Justice Ian Nordheimer on Sept. 10, 2007.
However, early the following year Nordheimer criticized the Crown for its "glacial progress" — particularly in providing disclosure — and stayed the charges against the six officers for breaching their right to a timely trial.
The Central Field Command six stood outside the courthouse at 361 University Ave and posed for the assembled media. Maodus lit up a smoke. Schertzer, who resembles a younger Alan Alda, smiled.
But unlike the accused drug dealers they had investigated, who had seen their charges stayed because of the ongoing investigations and then go away for good, five of the six officers would be back up before the courts.
In October 2009, the Ontario Court of Appeal set aside Nordheimer's decision for all except Benoit. A three-judge panel ordered a new trial for the remaining five, ruling the delay in the case reflected the time required to prepare and prosecute such a complex case.
CHAPTER SIX:
THE TRIAL
The air vibrated with anticipation as prosecutor John Pearson first rose to address the jury in a wood-panelled Ontario Superior Court courtroom on University Ave. on Jan. 16, 2012, eight years after the officers were charged.
Space before the bar in the medium-sized courtroom was cramped with desks, files and video equipment for the five defendants and 13 lawyers.
The prosecutors — Milan Rupic, Pearson, Susan Reid, Joan Barrett — all senior Crown litigators, sat at two tables near the centre.
They faced one of the harshest tests in any prosecutor's career.
Crown attorneys are often not able to talk about their cases, but lawyer Robin Parker, a former Crown, describes prosecuting police as the "grandmaster sensei cases of any prosecution service.
"It is extremely difficult for a prosecutor to successfully pierce the thin blue line, particularly when the evidence comes from people we are not used to trusting, like alleged drug dealers and informants.
"On the one hand, who better for a man in uniform to victimize than a person who will never be believed? On the other, who better to falsely accuse a man in uniform than someone with nothing to lose? This is the essence of the conundrum."
In fact, Toronto juries rarely convict cops for on-the-job crimes.
The alleged "victims" in this case were nearly all former or current drug dealers, whose testimony would later be subject to "unsavoury witness" cautions by Justice Gladys Pardu.
That meant the prosecutors had to rely heavily on documents to make their case: that the officers beat and robbed and extorted drug dealers, then committed perjury or submitted false notes and reports to cover up.
Moreover, the defence, funded by the Toronto Police Association, was formidable, with top-flight lawyers from Rosen, who defended Paul Bernardo, to Harry Black, renowned counsel of police officers. The crux of their position: the accused were being wrongly targeted for paperwork irregularities, not real crimes.
Pearson delivered a lengthy, well-crafted summary of the Crown's anticipated evidence, outlining the five separate drug transactions in which malfeasance allegedly occurred.
"The defendants tried to cover their tracks and tried to protect each other from the reach of the law," he told the jury of 14 — nine women and five men — which would later be reduced to 12 for deliberations.
Christopher Quigley, 46, the first Crown witness, made a deep initial impression with his searing tale of being "pulverized" over several hours by Maodus and Benoit in a Central Field Command interview room.
"I thought I was going to die," he testified.
But then the cross-examination began. Defence lawyers methodically picked Quigley apart as he indignantly stuck to his story.
They highlighted his past brushes with the law and confronted him with previous contradictory statements. He once formally agreed, as part of a guilty plea to pot possession, that he had attacked Benoit.
Maodus' lawyer, Patrick Ducharme, even brought up lies Quigley told his mother in which he minimized his involvement with the marijuana trade.
Former Montreal stripper Aida Fagundo, 48, testifying via video link from Spain, told a vivid tale of being robbed, beaten and groped by drug squad officers when she was arrested with five kilos of cocaine in 1997.
But again the defence dissected her testimony.
Cocaine dealer Andy Ioakim claimed officers stole his drugs and more than $100,000 from his home in 1997, then forced him to set up the lucrative Fagundo cocaine deal for them to bust.
But Brauti showed that Ioakim's claims about the amount of money stolen in that incident have varied from $60,000 to $110,000. Similarly, his allegations about the amount of cocaine snatched varied from 2 1/2 ounces to 2 kilograms.
Brauti also demonstrated that Ioakim has made numerous complaints against police, starting in the 1970s, involving the North Bay, York Region and Toronto police, as well as the RCMP.
Even Det.-Sgt. Ray Fortin, a Crown witness still on the Toronto drug squad, whose evidence initially damaged the accused by suggesting they under-reported $17,000 worth of a cocaine seizure, became a boon to the defence.
Brauti got him to agree that several practices followed by the officers on trial — particularly with regard to confidential informants — were not unusual.
Fortin concurred, for instance, that there could be a fine line between confidential informants — whose identities must remain hidden — and state agents, who can be named and testify in court. This is a point the defence made repeatedly to counter Crown accusations the officers concealed their use of state agents.
There were notable Crown setbacks.
Drug dealer Larry Vacon, 51, was expected to testify he saw officers conducting a warrantless search of his apartment. But when he took the stand he claimed a memory lapse.
In another instance, lawyers argued at length behind closed doors with the upshot being the Crown radically cut back the evidence it called in the arrest of heroin dealer Kai Sum Yeung.
Rupic later announced the Crown would not proceed any further with five of 14 counts related to these two men.
As the Crown finished calling evidence, some defence lawyers said they were so confident in their case they might not call their clients to testify.
In the end, however, all but Maodus took the stand.
Although they did well when questioned by their lawyers — portraying themselves as hard-working cops and good family men — several flailed under determined cross-examination as prosecutors pointed out discrepancies in their evidence.
Reid, for instance, grilled Miched on how he could possibly have driven along Eglinton Ave. E. from drug squad headquarters near Yonge St. to deliver a search warrant near Midland Ave. and made it back in 22 minutes.
She suggested he would have had to average 90 km/h in an unmarked car on a city street, crossing at least 30 traffic lights.
"I don't know how fast I was driving," Miched said.
It would be on this very scenario — involving a warrantless search in a heroin bust — that the jury would find guilt.
EPILOGUE:
INQUIRY AVERTED?
Only one of the accused — Correia — remains a police officer.
Having retired in 2007, Schertzer spends his time overseeing a trendy restaurant he owns on Queen St. W. He lives in Etobicoke.
Maodus moved back to Windsor. His father died in 2006 amid all of his son's troubles, which included an assault on a woman and gun and drug charges that are separate from the drug squad saga. He pleaded guilty to the assault. A judge tossed the other charges. His mother died during the drug-squad trial.
Pollard's disabled son was occasionally in the public gallery during the trial. At one point, Pollard described the combination of his son's serious medical woes and the stress of being accused of wrongdoing as "almost overwhelming." He retired in 2008.
Miched is now a grandfather. He sells cars.
All experienced stress and health problems, according to affidavits they have sworn. Relationships with family members were strained and, in some cases, broken.
Schertzer said one of his daughters was bullied at school over the case. He also lamented lost income from his suspension, with pay, until he retired. He estimated that he'd lost $25,000 to $35,000 per year in overtime and court time, according to the affidavit he swore in late 2007.
With the jury's rare finding of police guilt — at least on some of the charges — the former members of Team 3 face possible jail time. It's not clear if they will appeal. Sentencing is set for November.
Meanwhile, a number of the lawyers involved are adamant that the police response and the trial of Team 3 didn't get to the bottom of things.
"They were trying to do what the entire administration of the justice always tries to do, appear to be doing something while at the same time, not doing too much," says Sapiano.
It appears to be all "incremental steps, all designed to be able to say, 'Look. It's OK, everybody go home. It's all under control. There's nothing more to see here.' "
If there is an inquiry, it should examine the judiciary as well, Sapiano argues.
"The bench, with some notable exceptions, some very recent exceptions, conspired to suppress evidence of police malfeasance. And they would be very much opposed to this inquiry because it would reveal what's going on right before their eyes for decades."
"When we first made those allegations back in 1999, we were just called crackpots and scumbags," recalls lawyer Peter Biro, "and what happened was that gradually over a period of years, we stuck to our guns and uncovered more and more evidence and forced the calling of the special task force, and it was bullshit.
"It was clear it was never intended to get to the bottom of it. It was just intended to be a PR exercise and limit the damage."
Former federal Crown attorney Robin Parker contends "there are serious questions that will remain unanswered unless there is some sort of public inquiry. How did the Toronto Police Service allow this to happen? And why on Earth did the investigation and prosecution take so long
Documentary on the Drug War Wins at Sundance Film Festival
Judging from the trailers, pre-views, and reviews, Eugene has put together a really terrific documentary which takes a fair and realistic look at the war on drugs begun by US president Nixon. While a significant amount of damage caused by the war on drugs has taken place in the US, its impacts have been felt worldwide and sometimes the impacts outside the US have been worse than those inside the US.
Eugene interviews mostly people from the US but also includes researchers, social workers, and doctors from around the world. Included is Gabor Mate. A downtown, eastside addictions and methadone doctor in Vancouver, world renowned for his work.
See what SOROS Open Society Foundation,
an organization which supports action defending human rights, had to say about Eugene's film and then follow the link to see a pre-view of the film and interview with Eugene hosted by Democracy Now.
Soros Justice Fellow
Eugene Jarecki
recently won the top documentary prize at the 2012 Sundance Film Festival for his work
The House I Live In
. The film offers a range of perspectives on the failed war on drugs, fostering a more informed and honest dialogue about drug use, addiction, race, and incarceration in the United States.
http://blog.soros.org/2012/02/an-honest-look-at-the-war-on-drugs-wins-at-sundance/?utm_source=Open+Society+Institute&utm_campaign=c7bf5dceed-news-20120209&utm_medium=email
___________________________________________________________________________
US Drug War Ruins 2 More Lives
Another Canadian caught up in the US drug war, state side! Regi Stockford faces 10 years in a US prison if convicted of tr4afficking methamphetamine into the US. He is charged not because officials pinched him with dope but because another man, Paul folsom, who himself was unfortunately caught with meth. tablets in his possession testified against Regi for a plea deal.
I dont blame Paul for attempting to save his own skin. These are serious charges which will ruin both mens lives. We know what a criminal conviction does to a persons job, travel and other prospects
after serving time. No, the problem here lies with the US officials who doggedly retain this ridiculous war on people! Adults and teens who have every right to treat their own bodies to piercings, drugs, and sex as the individual in question sees fit! The state has no place telling anyone what they may or may not engage in with regards to their own bodies!
Its long past time that they admitted where the real damage to a persons life comes from...not drug use, but its criminalisation and the fearmongering and misinformation campaigns which do much to heighten curiosity, but nothing to prepare a person in how to handle the true effects and potential impacts of the drug.
Canadian man asks for jury trial on methamphetamine charge
Posted
Jan. 18, 2012,
at
3:27 p.m.
Last modified Jan. 18, 2012, at 6:09 p.m.
BRIDGEWATER, Maine — A Canadian man
charged with supplying drugs to a Houlton man already convicted of drug trafficking
requested a jury trial during a court appearance Wednesday.
Reginald Stockford, 39, appeared in Aroostook County Superior Court in Houlton before Justice E. Allen Hunter. He was represented by attorney Richard Rhoda of Houlton.
The New Brunswick man was captured by the Maine Drug Enforcement Agency last month and arrested on a charge of unlawful trafficking in methamphetamine, a Class B felony. He has pleaded not guilty.
On Dec. 10, 2011, Stockford was crossing into the United States from Canada and was detained at the Bridgewater port of entry by Customs and Border Protection officials who discovered that a warrant had been issued for his arrest.
He is accused of supplying methamphetamine to Paul Folsom, 41, of Houlton, who was sentenced on Nov. 16, 2011, in Superior Court in Houlton on two counts of unlawful trafficking of scheduled drugs. Folsom had been arrested in September 2010 by members of the MDEA and indicted two months later.
As part of a plea agreement, Folsom was sentenced to eight years in prison with all but three years suspended and a $1,000 fine on the first count. He was given a three-year concurrent sentence along with a $1,000 fine on the second count.
During Folsom's sentencing, Stockford was named in court as the drug supplier. Both men were part of a group targeted for investigation by MDEA in the fall of 2010 as agents worked on a case involving methamphetamine tablets being smuggled into the state from New Brunswick to be sold in The County.
The MDEA investigation resulted in the seizure of more than 4,400 dosage units of methamphetamine with a retail street value of $130,000, according to Darrell Crandall, MDEA division commander.
If convicted, Stockford faces up to 10 years in prison.
Canadian Students for Sensible Drug Policy
National Conference 2012
PROGRESS, NOT PRISONS
Hosted by: University of Calgary CSSDP chapter
March 2 - 4, 2012
Calgary, Alberta
JOIN US at Canada's only national drug policy reform conference! Join students, young people, researchers, social workers, policy makers, activists, academics, curious onlookers, and more for an exciting weekend! The conference will feature panel discussions on pressing topics in drug policy, interactive workshops, student research presentations, chances to hang out with inspiring people, and more. As Canada continues to increase the role of prisons and punishment in our society, we will come together to ask what 'progress' means for the current Canadian drug policy movement.
http://cssdp.org/index.php/our-campaigns/80-conference2012/339-conference2012
___________________________________________________________________________
Serving Vancouver and the Downtown East Side Since 2003.....
Controversial since first opening its doors, Insite has provided injection drug users with a safe place to use. Insite is operated under an umbrella of services provided by Vancouver Coastal Health with respect to vulnerable populations. It began as a
pilot project allowed by the Liberal government, under an exemption to the Controlled Drugs and Substances Act. It was to run for 3 years and expired in 2006. The program was so successful in reducing deaths and injury, as well as providing much relied upon counselling, detox and point of entry to addiction treatment programs that an extension was requested. This marked the beginning of a long and arduous battle, fought with old and familiar weapons.
The moralizing, judging, and demonizing of those without power by those in power.
2007
Tony Clement, Canada's Health Minister helps draft Canada's new drug strategy in 2007. They re-named it, the "anti-drug" strategy, and removed harm reduction from its mandate.
2008
Minister Clement also refused to extend Insite's exemption despite sound research which clearly demonstrated the difference being made for individuals and the community as a whole.
Supporters took the Conservatives to court and won a temporary injunction, effectively extending Insite's exemption to the controlled Drugs and Substances Act until a final decision could be reached.
2008-2010
The fight to close Insite waged on all the way to B.C's top court, the Court of Appeal.
Hopes for Harper not to waste anymore of tax payer's money were not to come true.
September 2011
And the Drug War raged on....
with Harper fighting to close
down
Insite, all the way to the Supreme Court of Canada,
.......where he lost! Take that Facism!
___________________________________________________________________________
Russia and Harm Reduction
In Russia those with serious problematic drug use issues has been on the rise. This is particularly true where opiate narcotics are concerned. The numbers of those addicted to heroin are increasing at alarming rates. Once hooked, users have little chance to escape the cycle of addiction. This is because Russia bans substitution therapy. Both governmental officials and health experts have stated that substitution therapy's like methadone are no way to treat addiction. Leaders in psychiatry and addiction had this to say:
"The effective way to solve the problem of drug addiction treatment is an intensive search for and introduction of new methods and means that focus on complete cessation of drugs use by patients with addiction, their socialization into a new life style free from drugs, but not on exchanging from one drug to another."
With the high levels of poverty in Russia many users cannot afford to purchase heroin. Desperate to shake off the terrible flu like sickness (magnified in intensity multiple times), users have turned to a home made substance referred to as Krocodile. The technical term, desomorphine is a derivative of morphine. It is made fairly simply and cheaply from codeine, which does not require a prescription. It won its street name, Krocodile because of its effects on the user. Injected without further purification, Krocodile literally rots the flesh. It becomes scaly and green. These symptoms are actually signs of phlebitis and gangrene. Some studies have estimated the life span of Krocodile users to be 2-3 years.
Russia is facing a time of great civil unrest. People are tired of the awful conditions under which they have been forced to struggle for many years, tired of the lack of commitment from their leaders regarding change, and sickened by wide spread corruption. Where "leaders" feel they are entitled to take from the people, even while the people do without.
It has finally become widely accepted in many parts of the world that those who use drugs problematically do so in order to temper emotional agony – and not simply because the drug itself has become a problem. There are underlying issues which make it undesirable to stop. If getting high is your only means of escaping from terrible life circumstances, and depression, then how on earth can people expect you can just quit and move on.
Unfortunately many countries like Russia criminalise drug use itself, and even the treatments (save abstinence) which are known to save lives. This creates conditions where drug users are unnecessarily exposed to HIV, and HCV; a mentality of judgment which prevents people from seeking medical treatment when its needed; and disgustingly high rates of death.
Russia is faced with the fastest growing HIV/AIDS epidemic in the world. And unlike most other countries sex is not the primary method of transmission. Injection drug use accounts for as many as 80% of new infections. See the below stats. on Russia 1996-2006 as documented through the UN.
Of the nearly 400,000 people living with HIV approximately 14,000 are receiving treatment.
55% of those diagnosed with HIV are persons between 15-24 years of age.
There are those who are fighting back and speaking out.
Alexei, a former prisoner advocates for drug users one person at a time. His sister is HIV positive and terrified to seek medical attention for fear of judgment and mis-treatment.
Masha Ovchinnikova is an activist and project coordinator at FrontAIDS, a Russian AIDS activist group
in Moscow. The group advocates for expansion of needle distribution and exchange programs, as well as access to discrimination free AIDS treatment and for methadone maintenance programs to be widely instituted.
http://frontaids.org/%D0%BA%D0%BE%D0%BD%D1%82%D0%B0%D0%BA%D1%82%D1%8B/
___________________________________________________________________________


Marc Emery on Bill C10
the Prince of Pot on the Omnibus "Crime" Bill from His Cell in the US
Marc has been incarcerated since 2010 when Canada turned him over to the US to face charges related to his online marijuana seed distribution business. It is unusual for Canada to turn over a Canadian citizen for probable imprisonment in the US if it is for lawbreaking that would not warrant jail time in Canada. Why is Marc's case different? A couple of things stand out. First we Canadians have been "blessed" with our current Prime Minister - Stevie Harper and his buddy's (a condition which needs no further explanation), and secondly Marc is not only a business man, but also an outspoken pro-marijuana activist. This last is the piece which has pissed off those right wing, war on everything, nut bars in the states - whom Harper worships and strives to model himself after.
I bet those pro-imprisonment,
and freer market, right wing ideologues on both sides of the border are at least a little dissatisfied with their inability to shut Marc up. Long US prison term or no, Marc speaks up for his beliefs and is a strong advocate for those who believe in the importance of individual freedom.
A warning to Canada from inside the "Tough On Crime" US prison system
by Marc Emery - Sunday, December 4 2011
In lieu of the imminent passage of Bill C-10, the crime bill with mandatory minimums for all drug offenses involving manufacture and distribution – which the Harper Conservatives are set to pass in the Canadian Parliament – it is reflective to consider how the US criminal justice system has gotten completely out of control with these mandatory minimum sentences.
Once mandatory minimums are put in any criminal justice regime, they almost never get repealed despite the disastrous effect on the public safety, the treasuries of the state and federal government, and the cruelty that punishes victims and their families.
"Disastrous effect on the public safety?" you might well ask. That's because as risk goes up in the drug trade, so do prices. Since most people involved in the drug trade have no comparable market value for their limited or non-existent skills, the more the prices rise and demand increases, the more tempted millions of men and women women – particularly blacks, Latinos, poor whites, natives – are to get into the drug trade.
Mandatory minimums of 10, 20, 25 years or even life imprisonment are no deterrent at all when the alternative in our material world is a life of minimal financial incentives from legal activity.
You might say, if my proposal is legalization to eliminate this paradox, why not legalize murder, or rape, or robbery. On the surface, uninvestigated, this seems an attractive rejoinder. But once a rapist, or murderer, or bank robber is captured and taken out of circulation, no one competes to replace the murderer or rapist or robber. The commitment of crime has been halted.
But in the drug markets, where forty million Americans are active consumers in the illegal drug market, when one dealer or manufacturer or grower is taken out of the market by imprisonment, dozens of their customers are now looking for a new supplier. The removal of one or several suppliers creates an opportunity for others to profit. Thus we see turf wars, gang disputes, or, if there is no overt violence, new persons entering the marketplace to feed the insatiable appetite of Americans (and Canadians) for these illegal but in-demand substances.
So for every person put in Yazoo Prison for drugs – and that's by far and away most of them – one or more persons immediately moved into the lucrative drug market to profit by feeding that existing demand.
In this way, prohibition manufactures crime by making criminals out of people who wouldn't be dealing in drugs unless these substances were prohibited from distribution in tradition retail methods. In my 'Drug Abuse Awareness' class here at Yazoo, I asked the question, "Would any of us, convicts or guards, be here if all drugs and substances were sold in licensed stores?" The answer is obvious. None of these inmates would be selling illegal drugs if those drugs were sold legally in stores, pharmacies, or any business similar to those that sell alcohol, tobacco, sugar, fatty foods, coffee, prescription drugs, etc.
Every year, tens of thousands of teenagers enter the illegal drug business, usually by buying a substance (typically marijuana) and reselling it to their close friends; their profit in these early stages simply pays for their share of the substance bought and used. But imagine the immediately corrupting effect when one person in a peer group becomes a "dealer", and is seen soon after with expensive clothing, the latest electronics, a fine car, sexy women, and plenty of money to flash around.
It is easy to imagine the invidious effect this has on all the other teenagers who can see this rapid financial enrichment, making it very challenging for the teenager with a minimum wage job at McDonalds to maintain a work ethic in the face of such contrast. In fact, that is reasonably impossible for most young people, particular those with no job or very limited prospects.
But if these drugs were regulated and manufactured under controlled circumstances in the usual economy of scale, they would go from being lucrative and profitable illegal drugs to being mundane and no more profitable than lettuce or tomatoes, or liquor, or Viagra, or any such mass-produced commodity. There would be no young people selling drugs on the street or to their friends. None.
Consider the impact on children and families of the convicted prisoner caused by the kinds of sentences that Americans routinely receive in the grotesquerie called the US criminal justice system. In my drug abuse awareness class we were told that 70% of all children of convicts will themselves be in prison eventually. Well, whose fault is that? Broken homes manufactured by the War on Drugs produces a prison population in perpetuity. Whom is that designed to help, and whom does it destroy?
It costs, in the US, about $50,000 a year to incarcerate a prisoner; in Canada, it's $100,000 (male) and $190,000 (female). But the US has 2,500,000 prisoners at any one time, and 7 million more on supervised release, house arrest, bail, probation, parole – all very expensive, unwieldy extensions of the prison punishment complex.
The net effect of an infinitely expanding prison population is the draining of the treasuries of the municipalities, states and federal government, for absolutely no benefit to the taxpayer. The prisoners themselves have no money, and their families lose a breadwinner, and often go on welfare as a consequence. The families are usually decimated financially by legal fees and loss of the income earner(s). The children are permanently affected. The families can rarely afford to visit, or can't at all – in many cases, they won't even see their loved one again in their lifetime!
Bill C-1-0, introduced by the Canadian Conservative government, provides mandatory minimum jail sentences of six months for six marijuana plants (nine months if you're renting the property), to 18 months for making extracts like hash or cookies, two to three years for cocaine offenses, 10 years for a second offense, up to 14 years for marijuana offenses, and longer for other substances. It is draconian in its punishments for Canada.
Here, however is a short resume of ten fellow inmates, all but one who live in my unit here at Yazoo Medium. This is how mandatory minimums become medieval and outrageous crimes against humanity, all under the guise of fighting crime. I have provided their proper name and inmate registration number so you can confirm these sentences as I have stated them at the Bureau of Prison website,
www.bop.gov
, so you know I am not exaggerating or misstating the facts.
1) Christopher Norman, 24635034: sentenced to 21 years, 10 months (262 months) for conspiracy to distribute five kilograms of cocaine. Sentenced July 2000, Release date: 2019. Black American.
2) Jacob Esquibel, 40652018: 21 years, 3 months (255 months) for 'Possession with intent to distribute methamphetamine'. Inside since 2001, release date: 2021. First time offender as an adult. Mexican/Native American.
3) Travis Rogers, 21111045: 252 months (21 years), inside since 2010, release date: 2029. Conspiracy to distribute 500+ grams of methamphetamine. One previous state conviction. White.
4) Antonio Andrews, 15054040: Convicted of being a felon in possession of firearms, sentenced to 48 years, sentenced in 2010, release date: 2053. Current age 34, release at age 77. Andrews makes a point of saying no one was harmed, nor were guns used in any way. Black.
5) Cedric Jones, 29464-077: "Conspiracy to possess and distribute crack cocaine." Received "mandatory life sentence" in 1995 at age 24. Now 40 years old. No drugs were ever found on his person nor was any amount specified in his indictment. Because of two previous convictions, he received LIFE WITHOUT PAROLE. No release date. Black.
6) Nathan Carter, 14989076: "Possession with intent to distribute crack cocaine". Sentenced in 1998. Because of two previous drug convictions, was declared a career criminal, and given a life sentence. Received LIFE WITHOUT PAROLE. No release date. Black.
7) Bryan Jones, 01156748: "Conspiracy to Distribute Crack Cocaine". Sentenced to LIFE WITHOUT PAROLE, PLUS 5 years (!) in 1999 for having a gun in his possession at the time of arrest. First offense. Age 27 when incarcerated, 39 now. No release date.
8) Billy Wheelock, 60161080: Sentenced to "LIFE WITHOUT PAROLE" in Waco, Texas in 1993 for 99.64 grams of crack cocaine. In jail 19 years, 48 years of age.
9) Curtis Bell, 09304002: "Conspiracy to distribute crack cocaine", Life without parole. In jail since 1993. 10 of the 19 people indicted received sentences of Life Without Parole, including a mother of 22 children, Mary Morrow. A book was written that included information about Curtis Bell, called "Drug Conspiracy: We only Want the Blacks" by Richard 'Squirrel' Thomas. The title is taken from testimony by a government informant who testified against 30 black men, only 15 he had actually met. When the informant said he has information about a white man selling drugs at a club, a police agent said, "With all due respect, Derrick, we only want the niggers."
I have included only a few of the people I live with; all have over 20-year sentences, all for non-violent offenses. There are several convicts here who are serving 10 years for marijuana, including Fred, whose family visited here once with Jodie (she paid for their hotel for driving her here to Yazoo City from Jackson, to and from the prison, and back to Jackson). Fred has three wonderful children, a wife, and a mother who misses him greatly; all are under great duress not having Fred home. He and his brother received 10 years each (mandatory minimum) for interstate transportation of marijuana.
My cellmate Wally received 15 months for receiving 2.5 pounds (a little over a kilogram) of marijuana in the mail from Oregon. Once it's interstate, it's a federal offense and penalties are very harsh. One of my correspondents, Linda, lives in Bakersfield in California and has a son, Corey, in Taft camp serving the last few years of an 11.5-year sentence for distribution of marijuana. Taft camp is a private prison in the California desert that I was originally designated to go to. Linda describes the many challenges Corey has encountered trying to get through his time there. After he goes through the RDAP (Residential Drug Abuse Program), he will be released late next year.
The US prison system, both the state and federal, is stuffed with hundreds of thousands of inmates serving outrageous, cruel, expensive, and pointlessly long sentences. Their offenses are manufactured by government policy – the policy of prohibition.
In Canada, the cruel mandatory minimums for cannabis and drugs soon coming into law will be augmented by the on-going appointment of Conservative judges to the courts. This situation will produce much longer and harsher sentences, fill the jails, increase the debt, expand police powers, reduce the safety and freedom of the citizens, escalate the drug war, raise drug prices, increase the lucrative nature of the drug trade, and drain the taxpayers.
The only people who will benefit are politicians, police, and gangsters.
_____________________________________________________
Decriminalisation in Portugal
,
10 Years on
...
Over a decade ago Portugal decriminalised drug possession – any type of drug from marijuana to cocaine and heroin were decriminalised with some fantastic but not particularly surprising results.
See what the new Director of International Network of People who Use Drugs (INPUD) had to say about the Portugal effect;
Drug Use Decriminalization in Portugal:
In 2000 Portugal approved and implemented a new law, the law 30/2000 that decriminalized the use of any drug. decriminalization means that it is not a crime to use a drug, whether cannabis, cocaine or heroin. The person instead of being arrested by the criminal system is now treated by the health system.
The system has 3 stages:
1) It starts when the person is stopped by the police in possession of drugs. At this point the police take your details and refer the drug user to what we call in Portuguese a 'comissao de dissuasao da droga' which is a form of drug advice centre. This is an administrative sanction rather than than criminalising the person.
2) The second stage is that the drug user is required to attend the drug advice centre which is staffed by lawyers and psychologists. There the drug user is assessed and engaged in a conversation about their drug use. If they are a sporadic user they will pay a fine and then the case is finished.
3) However, for habitual users there is a third option. They are referred to drug treatment centre and are not fined. At the drug treatment centre they talk with a psychologist or psychiatrist and then choose if they want to engage in drug treatment or not.
The fact that a person who uses drugs is now not a criminal had fantastic results, allowing a greater stabilization of this person including the opportunity to engage in drug treatment. As the people who use drugs start to go much more often to the drug treatment centre so they start to use the public health care system free from the fear of criminalization and the associated stigma and discrimination. In the past many drug users hid from public institutions because they were fearful of seeking help. The drug user has become a citizen with full rights who may also use drugs.
To read the full speech go to
http://inpud.wordpress.com
where Jorge discusses availability of syringes, dealings with police, and access to various kinds of treatment in greater detail!
See what Sir Richard Branson, human rights activist, and founder of Virgin records had to say about Portugal's independent stand on the world stage against continuing to follow the world into the drug war;
Visited Portugal, as one of the Global Drug Commissioners, to congratulate them on the success of their drug policies over the last 10 years.
Ten years ago the Portuguese Government responded to widespread public concern over drugs by rejecting a "war on drugs" approach and instead decriminalized drug possession and use. It further rebuffed convention by placing the responsibility for decreasing drug demand as well as managing dependency under the Ministry of Health rather than the Ministry of Justice. With this, the official response towards drug-dependent persons shifted from viewing them as criminals to treating them as patients.
Now with a decade of experience Portugal provides a valuable case study of how decriminalization coupled with evidence-based strategies can reduce drug consumption, dependence, recidivism and HIV infection and create safer communities for all.
I will set out clearly what I learned from my visit to Portugal and would urge other countries to study this:
In 2001 Portugal became the first European country to officially abolish all criminal penalties for personal possession of drugs, including marijuana, cocaine, heroin and methamphetamines.
Jail time was replaced with offer of therapy. (The argument was that the fear of prison drives addicts underground and that incarceration is much more expensive than treatment).
Under Portugal's new regime, people found guilty of possessing small amounts of drugs are sent to a panel consisting of a psychologist, social worker, and legal adviser for appropriate treatment (which may be refused without criminal punishment), instead of jail.
Critics in the poor, socially conservative and largely Catholic nation said decriminalizing drug possession would open the country to "drug tourists" and exacerbate Portugal's drug problem; the country has some of the highest levels of hard-drug use in Europe. The recently realized results of a report commissioned by the Cato Institute, suggest otherwise.
The paper, published by Cato in April 2011, found that in the five years after personal possession was decriminalized, illegal drug use among teens in Portugal declined and rates of new HIV infections caused by sharing of dirty needles dropped, while the number of people seeking treatment for drug addiction more than doubled.
(for full article... http://drugpolicy.ca/2011/12/sir-richard-branson-time-to-end-the-war-on-drugs/)
Since the 10 year anniversary of Portugal's pro human rights approach, other nations have found the courage to also speak out. And activists from around the world continue their work towards ending the war on drug users. From Poland to Russia and Mexico to Canada, new approaches to centuries of criminalisation are on the rise! About time!!! There is even some talk from those at the front lines and from policy makers about pulling out of the anti-human rights UN declarations.
Hear what the former president of Mexico had to say about the harm caused to his country and to others as a direct result of the American drug war.
In Canada :
"
four former mayors of Vancouver endorsed the Stop the Violence B.C. coalition in the form of an open letter addressed to B.C.'s elected officials. The letter encouraged politicians to voice their sup-port for taxation and regulation of cannabis as a strategy to reduce gang violence. Despite a recent Angus Reid poll showing that only 12 per cent of British Columbians support existing marijuana laws, with almost 70 per cent supporting the taxation and regulation of marijuana, the B.C. Liberals and their NDP opposition have yet to show meaningful leadership on this issue. Apparently, they are concerned that voicing a progressive opinion could lead to a bleeding of support to the emerging B.C. Conservative Party."
I am grateful these "leaders" are finally stepping up and speaking out. But the question really remains, why did they not speak out while in power, when they had more direct access and influence to institute real change? Alas, the fickle game of politics, always stepping on someones toes while desperately trying not to.
And least we forget, it could get worse! Indeed it is much worse for drug users in countries around the world, which not only criminalise drug users, but also demonize and promote hatred of them. With the outward intent of keeping them on the fringes of society, making them ill and outright killing them. Countries like China and Russia have particularly abysmal records.
Drug Users Demonized, and Left to Die in Russia
We can all learn a lot from Portugal, but none perhaps more than Russia. Russia has one of the most abysmal, and harmful policies in the world with regards to drug user human rights. Most governments care not a bit for drug users generally and tend to look upon problematic drug use as an individual rather than a community issue. However most governments also feel pressure, if for no other reason than preserving their public face – to address the HIV/AIDS epidemic in regards to the drug using and other marginalized populations.
Not so in Russia. Russian leads the world with the highest rate of HIV infection among the drug using population, at 80%. Activists around the world demonstrated this past Dec 6 to tell Russia that the world is watching and we are disgusted with their leaders.
Users United Around the Globe in Support of their Russian Peers
New York City Kicked off the global protest on the eve of World AIDS Day, and were followed by 12 other cities
On World Aids Day, 2011, just a few short days ago, harm reduction organisations led by people who use drugs and supported by the International Network of People who Use Drugs
(INPUD)
gathered outside Russian embassies in cities across the world in the largest ever global show of solidarity by and for people who use drugs.
The protests, entitled 'Shame Russia Shame', was directed at Russia's highly controversial drug policies which are believed to be driving the EEC regions HIV and TB epidemics. Injecting drugs with contaminated equipment is driving Russia's HIV epidemic, now the fastest growing in the world and it is reflected in the numbers; as many as 80% of new infections are occurring amongst people who inject drugs (PWID), in a total HIV positive population of approx 1.3million. With this in mind, recent projections forecast an additional 5 million people could become infected with HIV in the near future, unless Russia drastically transforms the way it is dealing with its HIV pandemic.
INPUD member Erin O'Mara says Russia's drug policies are 'brutalising'
Erin O'Mara, (editor of UK's Black Poppy Magazine and INPUD member) who coordinated the global protest said the human catastrophe unfolding in Russia is almost indescribable in its brutality and neglect."Russia has more heroin users than anywhere in the world yet because they offer no safe alternatives such as methadone or buprenorphine, and corruption has driven the price of heroin above what many Russian users can afford, new home made concoctions like desomorphine (nicknamed krokodil) are gaining ground, with devastating health consequences for the user". Erin adds, "To scratch the surface of Russian drug policies, you find some of the most brutalizing policies in the world; where their should be harm reduction, regulation, treatment and support, there is neglect, abuse, imprisonment, disease and death."
(full article at, http://inpud.wordpress.com/2011/12/06/users-united-around-the-globe-in-support-of-their-russian-peers/)
Poland "Treatment Not Jail" Drug Law Now in Effect
A step in the right direction? I think it probably is. But this will largely depend on how quickly activists are able to address provisions for forced treatment as opposed to imprisonment. Anywhere we are held against our will, it is a prison. Though I suspect much like here in Canada, the treatment centres are a lot nicer in food, accommodation and some staff members.
Posted in:
An amendment to Poland's drug law that allows prosecutors to divert drug users to treatment instead of prison went into effect Friday,
PolskieRadio
reported.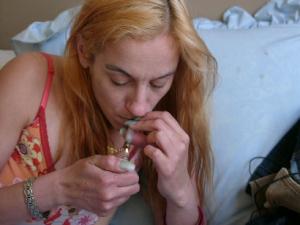 This crack smoker could get treatment instead of jail under a new Polish law (Image: Wikimedia.org)
The amendment lets prosecutors bypass the courts in a "treat, not punish" approach to drug use when confronted with people arrested in possession of small amounts of drugs. A person arrested with personal use quantities of drugs can now be immediately referred to a therapist, and prosecutors are compelled to gather information on the extent of the person's drug problem.
National Bureau for Drug Prevention spokeswoman Barbara Wilamowska told PolskieRadio she believes the new approach will result in fewer prosecutions.
Agnieszka Sieniawska, head of the Polish Drug Policy Network (PSPN), said the new system will be quicker, cheaper and more efficient.
But while the amendment represents a kinder, gentler approach to drug users, that same law increases penalties for drug trafficking.
The amendment comes into effect a month after two Polish Nobel Prize laureates, former president Lech Walesa and poet Wislawa Szymborska, signed a statement calling for lighter punishments for those arrested for personal use.
Meanwhile, a newly formed liberal political party, Palikot's Movement, is calling for the full legalization of soft drugs. It won a surprising 10% of the vote in the October general election. But Prime Minister Donald Tusk, head of the current coalition government, has said that his Civic Platform Party opposes legalization.
Poland